Inter-Asia Exchange Project
-China and Korea-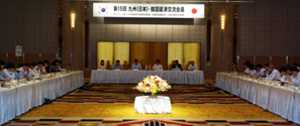 KEI has promoted exchanges of views and business exchanges between Kyushu and overseas entities through the Kyushu-China Industrial Technology Conference (since 1991), Kyushu-Korea Economic Exchange Conference (since 1993), and Pan-Yellow Sea Economic and Technology Exchange Conference (since 2001), all of which are held on a regular basis. In fiscal 2008, the organization participated in the China International Industry Fair as an exhibitor.
- Vietnam -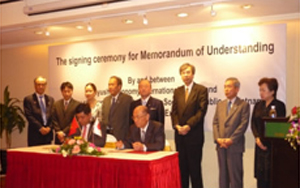 MOU concluded with the Ministry of Planning and Investment, Vietnam After examining the results of a survey conducted in January 2007 by a mission comprising representatives from local governments and the business community to Vietnam (Hanoi and Ho Chi Minh City) and policy proposals submitted in March 2008 by the Kyushu-Vietnam Economic Exchange Study Group based on a series of discussions, in order to deepen and expand economic exchanges between Kyushu and Vietnam, KEI and the Ministry of Planning and Investment, Vietnam concluded a Memorandum of Understanding (MOU) on Economic Exchanges between Kyushu Economic International and the Ministry of Planning and Investment, Vietnam on February 25, 2009. KEI will further promote economic exchanges to meet growing business needs.
Overseas Market Development Support Project
With the aim of enabling Kyushu-based companies to expand business abroad, KEI provides support for organizing exhibitions and other events; in fiscal 2008, in order to develop an Asian market for Kyushu-made food products, KEI held a seminar on the Shanghai market for Japanese foods and organized business meeting sessions between Japanese participants and potential Asian business partners. During one such session in Kagoshima, business meetings were held between Hong Kong and Singaporean buyers and 30 Kyushu-based companies and offered consultation about export of foods for individual Japanese companies.
Foreign Business Attraction Project
Three important factors for attracting more foreign companies to Kyushu, effective in energizing the regional economy, are strategies of local governments and public organizations, support for companies expanding their business in Kyushu, as well as effective PR. KEI, therefore, organizes study sessions and seminars, through which staff members of local governments and public organizations responsible for foreign business attraction can learn about trends in foreign companies' business expansion in Kyushu, actual case studies, and PR strategies.
Overseas Students Exchange Project
KEI hosts a forum for local companies and overseas students studying in Kyushu to interact and exchange views, thereby promoting mutual understanding. By organizing events such as get-togethers and seminars, as well as by offering career consultation for international students, KEI encourages Kyushu-based companies to use overseas human resources.
Overseas Business Support Caravan Project
To help solve a number of different problems in expanding business overseas, KEI sends the Overseas Business Support Caravan to various parts of Kyushu, to introduce the national government's support programs related to intellectual property rights, EPAs , FTAs, etc., and offers the latest information about international business.